Time: 6 PM
Location: Jack Trice Stadium, Ames, IA
What an ugly, ugly game last weekend. By now everyone knows that Austen Arnaud's knee injury in the 4th quarter will require total ACL and MCL reconstruction. Along with this the offensive line turned out its worst performance of the season by allowing 8 sacks and firmly plummeting the Iowa State offense in to dead last in the conference in that statistic.
Now the Cyclones return home in desperate need of a win to earn a bowl berth for the second straight year and give the outgoing seniors another game. In their last five Senior Day games Iowa State is 4-1 with the only loss coming to Missouri in 2008.
A History: Iowa State vs Missouri
Iowa State is 33-59-9 all time against Missouri and holds a 4-6 record against the Tigers during this decade.
Last 5 Games
2009: Missouri 34, Iowa State 24
2008: Missouri 52, Iowa State 20
2007: Missouri 42, Iowa State 28
2006: Iowa State 21, Missouri 16
2005: Missouri 27, Iowa State 24
Iowa State has had success against the Gary Pinkel-led Missouri team when they have held on to the football and minimized big plays. An early turnover in 2009 by Arnaud led to a Tiger touchdown on their 2nd drive of the game and two 60+ yard pass plays four minutes apart in the 3rd quarter put the Tigers ahead for good. In 2007 a Bret Meyer fumble inside his own 5 yard line gave Missouri an insurmountable lead against an Iowa State team that was finally finding its offense. In 2006 Bret Meyere threw one interception but rode the back of Ryan Kock to a 21-16 victory in Dan McCarney's final game as the Cyclones' head coach.
Missouri's offense thrives on short fields almost more than any other team out there so ball security is the #1 priority against the Tigers.
Back it Up: Week 11 Review
Iowa State got dismantled in Boulder, 34-14, to a Colorado team playing its best football of the season for an interim head coach. The Cyclones were held to -6 yards rushing and lost Arnaud to a season ending knee injury.
Missouri held off a late charge by Kansas State to win 38-28. The Tigers forced four Kansas State turnovers and rode a balanced attack (208 yards passing and 232 yards rushing) to the victory. Kansas State racked up 422 yards of total offense and held the ball for over 30 minutes but constant turnovers kept the Wildcats from pulling closer.
Iowa State Offense vs Missouri Defense
Most Iowa State fans should be nervous with Jerome Tiller staring this weekend. Not because Tiller is not capable but because of his limited reps and an aggressive Missouri front four that leads the conference in sacks. With the performance of the offensive line last week fresh in our heads, and the potential for Brayden Burris to spend the game on the bench, it is very possible that Missouri will feast in the Cyclones' backfield all day long.
Along with Missouri's vaunted pass rush there is also comments earlier this week that Tiller has not had the experience throwing the more complex corner and post routes that Iowa State has used to pick up chunks of yardage in key situations (see: Josh Lenz vs Nebraska). This is a rep issue and even with Tiller picking up reps this week it is likely not enough to make Tom Herman confident in calling those plays in key situations. This means the run game will have to work and work well to keep the Cyclones in the game.
Missouri comes in to the game having racked up 30 sacks this season but only ranking 60th is rush defense by giving up 151 yards per game. Obviously we should be concerned with this offense and its performance last week but one of the biggest differences between last week and this will be the effectiveness of the quarterback position in the run game.
Arnaud was still hurting from the Nebraska game and still had a heavily taped ankle. Watching that game in person you could plainly tell the offense was being run through Alexander Robinson and the short passing game. Only when it was necessary was a longer pass called and despite having the holes to run through Arnaud did not have the mobility to run effectively. Hence, sacks. A healthy Jerome Tiller should change this.
With Tiller healthy the Iowa State offense should not be as anemic as it was last week. Tiller can make plays with his feet and this was evidenced with his improvised touchdown pass to Collin Franklin (which was also made possible by Franklin's heads up route running). Expect Tiller to run if the pocket breaks down and also have his options on the read option. Two things that have been lacking while an injured Arnaud plays.
Most Intriguing Matchup: Iowa State's offensive line vs Missouri's defensive line
Advantage: Missouri
Reason: Missouri does a great job getting pressure with just their front four and have a very solid core of linebackers who can make plays in space. Without the need to blitz Missouri can sit back and force Tiller to throw in to 7-man coverage. If the line cannot keep him upright it will be a very long day.
Look for more misdirection type plays to possibly catch Missouri off guard in their discipline. One thing that will be interesting to see is whether or not the Pistol formation that has Jeff Woody flanking the quarterback and Robinson set behind will turn in to something. This is a great formation to pull out some triple option styled plays and would be something the Cyclones have not put on tape yet this year.
With Tom Herman's all out play calling last year (touchdown lateral to Scott Haughton and option pass to Jake Williams) it is very likely there is something in the reserves for this week. With the possibility of only one game left in the season there is no time like the present to pull out some goodies that are deep in the playbook. Iowa State will likely be hard pressed to out execute Missouri head to head so something unconventional may happen.
Iowa State Defense vs Missouri Offense
The Missouri offense has been plagued by the inability to pass at times this season and with their passing game goes the rest of their offense. They currently rank 37th overall in passing yards and 54th overall in rushing yards but in losses to Nebraska and Texas Tech they only amassed 199 and 95 yards passing, respectively. Missouri lacks the game breaking wide receivers such as Jeremy Maclin and Danario Alexander than they have had in the past and have been forced to rely on a running game that, while effectively, is not exactly smash mouth.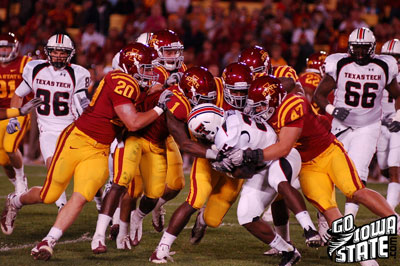 Contrast that to an Iowa State defense that has been plagued by the inability to effectively stop anyone the last few weeks (and most of the season). While only giving up 118 yards to Colorado on the ground the Cyclones were gashed repeatedly for 4 or 5 yards a pop. Cody Hawkins looked like Joe Montana while completing 16 passes for 266 yards and three touchdowns. The Iowa State defense is built on two things: Give up no big plays and force turnovers. Neither one was effective against Colorado. The one turnover they forced on a Rodney Stewart fumble led to an early touchdown and a 7-3 lead. However, big plays were abundant. A 55-yard reception by Paul Richardson on a bubble screen setup Colorado's first touchdown and the dagger came on a 26-yard pass to Toney Clemons on a broken play where Jeremy Reeves broke his coverage off at the goal line and failed to recover.
Something has to give this game in regards to someone springing a big play. Iowa State hates to give it up and Missouri loves to get it but does not have the personnel they have had in the past. Until last week I would have picked Iowa State in this matchup because of Wally Burnham's experience stopping the spread. Although after last week's poor coverage and tackling effort it's tough to determine which side will win out in this battle. With the wind looking to be around 14 to 16 mph with 20 mph+ gust at kickoff expect Missouri to lean on their running game early. If that holds true, their wide splits will put pressure on the Cyclone linebackers to keep the yards per carry to a minimum.
Most Intriguing Matchup: Missouri offensive coordinator David Yost vs Iowa State defensive coordinator Wally Burnham
Advantage: Iowa State
Reason: Yost is in his second year as offensive coordinator at Missouri after taking over for Dave Christensen and in his 10th year overall at Missouri. Burnham is in his 40th or so year of defensive football and brings a wealth of experience in stopping multiple spread attacks.
Yost has been known to shit the bed in regards to his play calling when a defense shows something different than they have in film. Navy ran a simple 2-4-5 defensive set in last year's Texas Bowl to stop Missouri's passing attack. Instead of rushing the ball Yost stuck to his initial gameplan and it resulted in a 35-13 ass whooping behind only 65 yards rushing.
Burnham's defense has been rather simple this year with his "bend but don't break" philosophy really beginning to take hold. However, as the need has arisen he has mixed things up with different personnel packages and even some press coverage from the corners. While Iowa State seldom leaves its base Nickel package they have shown creativity in their blitz schemes and willingness to stand up defensive ends to give the rush/drop into coverage option. Burnham may have a few tricks up his sleeve to force Yost to make a decision on what he wants to run on Saturday.
Iowa State Special Teams vs Missouri Special Teams
The Iowa State special teams, specifically the return teams, need some work securing the ball. Both Shontrelle Johnson (kick return) and Josh Lenz (punt return) fumbled balls last week and Lenz's turned in to a back breaker after the Iowa State defense had given the offense another chance to get itself back in the game in the 3rd quarter. Both units found running room against a salty Colorado coverage team last week but struggled to hang on to the ball. No mistakes can happen this week if things are expected to go the Cyclones' way.
An early question mark will be the status of Lenz (groin) this week. If he cannot go do not expect much for fireworks out of the punt return team.
Most Intriguing Matchup: Iowa State kick coverage vs Missouri's kick return
Advantage: Missouri
Reason: Iowa State showed an undisciplined, and uncharacteristic, flaw last week when Colorado pulled a fake reverse on the kickoff immediately after Iowa State took a 7-3 lead. The return result in Colorado taking the ball over inside the Cyclones' 10 yard line and scoring two plays later to take the lead and never look back. Whether or not Missouri does something similar to Colorado is not known but the kick coverage team for the Cyclones must be more disciplined in their lanes and win this battle to secure field position and create better chances for the defense.
Final Analysis
Make no mistake about it, Iowa State is going to have to play the game of the season and expect for Missouri to play flat and make mistakes. They will need a Texas-style execution level and just as much, if not more, luck.
Offensively Missouri does not break plays nearly as often as they have in the past. Part of it is personnel and part of it is adjustments by opposing defenses. Missouri has been running the same offense for years and it has been predicated on outstanding athletes taking five yard slants to the house. This team is not good enough to have one facet of the game taken away from them and still succeed. If Iowa State is to have a chance they must keep everything in front of them and be sound in their tackling. No boneheaded plays or arm tackling techniques like we saw in Boulder last week.
Defensively Missouri is a lot like Iowa. Bend but don't break, use the four linemen to get pressure, and force a team in to making mistakes. Missouri has the 2nd ranked red zone defense in the country allowing only 28 trips to the red zone and only 16 scores. If Iowa State is lucky enough to move the ball between the 20s they will need perfect execution in the red zone (2 for 2 last week) to sustain this game. As someone just told me a few minutes ago, Paul Rhoads needs to throw the kitchen sink at these guys.
No amount of words can impress how important this game is for the Iowa State program. A win sends this team to a bowl, gets the seniors another change to put on the uniform, validates Rhoads' philosophy, and gets valuable practice time to a young group that will have big shoes to fill next year.
A loss does not sink Rhoads' philosophy by any stretch, but it will be demoralizing. After close losses to Kansas State and Nebraska, a game that got away in Utah, and a season deflating blowout in Boulder it would be hard to look at this season and consider it any kind of success. This is only year 2 of the Rhoads Era but every chance for success that is met now will be met with greater ones down the road.
Tomorrow night will be the last time Arnaud, Robinson, Williams, Alex Alvarez, David Sims, and a host of others walk out of that tunnel at Jack Trice and they deserve the best. The best fans, the best play calls, and the best from their teammates. This senior class has been to hell and back with many seeing three head coaches and none tasting their first bowl trip, and victory, until last year's Insight Bowl. These seniors have shown some of the best resiliency out of any group in recent memory and just cannot leave the stadium with a loss tomorrow night.
Sometimes games cannot be explained on paper and we have seen as much with this Cyclone team all season.
Jack Trice under the lights, with a bowl berth and a trophy at stake, who could pick against us?
Final Score
Iowa State 30
Missouri 23