Disclaimer: Picks are not guaranteed. In fact, you will lose money with our picks.
Week 2! We went .500 last week so you shouldn't have lost money. Well, unless you bet the house on the Kansas game, in that case Detroit would like to welcome you to the default payment club. Here are the WRNL picks of the week.
1. Kansas @ -5 Southern Miss
Like that crazy girl who rocked your drunk ass world in college...you keep calling her up for more. That's Kansas for me this year. This time around look for Kansas QB's to be on their backs a lot this week. Southern Miss has a pair of stud defensive linemen in Korey Williams and Cordarro Law. Southern Miss by 7
2. Arkansas +2 ½ @ Georgia
Ryan Mallet threw for 400 yards last week and the hogs have to be considered a sleeper in the SEC West. Georgia couldn't get much of a pass game going without A.J. Green on the field. Take Arkansas to roll in Athens
3. Iowa State +3 ½ @ Kansas State
It's FARMEGEDDON!! Iowa State got beat down pretty bad against Iowa last week. This week they'll look to stop another big running back. Daniel Thomas is a bruiser but Kansas State is still unproven after sweaking out a win against UCLA (who got pounded by Stanford last week) and playing a patsy in Missouri State in week two. Cyclones lose in another heartbreaker in Arrowhead.
4. East Carolina @ -19 ½ Virginia Tech
Now the spread and VT's gaff last week against James Madison would have you betting against the Hokies -19 ½. That there is what Vegas wants you to do, go against them it'll feel good, like a full-service "Vegas Style" message. Look for Beemer ball and tumor to win comfortably.
5. San Diego State @ -14 ½ Missouri
This is my "who gives a shit" game of the week. Talk about change in scenery for the visiting Aztec's. Beautiful beach babes who maybe eat 500 calories in a day, to the portly Pi Phi's who order P90x at 3am after downing a large pizza a tub of Rocky Road. "I'll start next week." Gabbert and the Pinkie to roll...Mizzou by 20+
6. Arizona State +14 ½ @ Wisconsin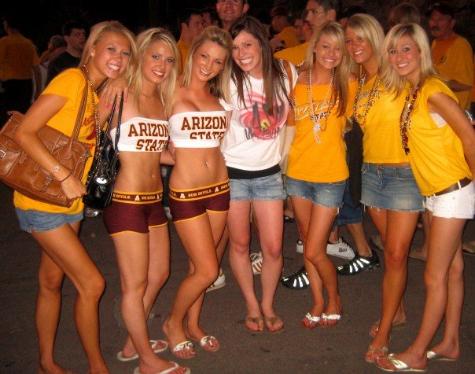 Wisconsin finishes its western warm-ups with a down Sun Devil team. You would think that Dennis Erikson could get things going like he did at the "U" with all the trim he has available at ASU, it hasn't happened ...yet. Wisky has another big back in John Clay and they will try to keep him healthy during the long season. Take ASU and the trim to cover.
7. Air Force @ -17 ½ Oklahoma
Oklahoma proved two things last week: 1) They are pretty good and proved it by taking care of Florida State with ease. 2) Are a classy bunch...Bob Stoops this week had to ask his fan base to sing "home of the brave" the true ending of the national anthem, instead of "home of the Sooners" a new "tradition" the Sooner crowd has started. This what happens when you can't read. Oklahoma big.
8. Baylor +21 @ TCU
2nd best game in Texas this week, makes you wonder WHY IS THIS ON VERSUS??? TCU beat a very good Oregon State but don't let that fool you. Baylor is 3rd in the county in points against averaging 4.5 in their first two contest. TCU to win but take Baylor to cover the spread...ca-ching!
The "BET YOUR HOUSE
" Pick of the week: (0-1)
9. Clemson @ -7 Auburn
Ole' Chizeldick has one of the best quarterbacks in the country and are averaging over 275 rushing yards per game. Look for the Aurburn defense to continue to lock things up led by D-End Nick Fairley. This will be a close game but Auburn takes it late. Auburn by 10.
GAME OF THE WEEK
10. Nebraska @ +3 Washington
Huskers head out to the West Coast to take on Washington at Huskies Stadium. The hippsters are going to be extra pissy when Nebraskans roll into their favorite bean shop, ask for a small black coffee and don't tip the barista. Jake Locker and Steve Sarkisian take down the national title hopes and put an entire state on suicide watch. Washington wins with a field goal late.
Bonus: O/U 10.5: Number of tractors in Arrowhead's parking lot during this years Farmegeddon.