Date: September 25, 2010
Time: 6:00 PM
Location: Jack Trice Stadium, Ames, IA
Like many of you I have some frustrations about last weekend. The defense did a swell job of bending but not completely breaking despite apparently adhering to the "Hide yo kids, hide yo wife" advice issued about Daniel Thomas. The offense started to play in to a rhythm but stupid penalties killed drives that had great potential to end in touchdowns.
All of the mourning aside, it's time for Iowa State to start their three game homestand that will go a long way towards determining whether or not this guy spends time getting drunk in an unfamiliar city or getting drunk and passing out under the Christmas tree at home at the end of the year. Onward and upward...
A History: Iowa State vs Northern Iowa
Despite what Northern Iowa fans will tell you this series has not been close except for years where Iowa State was terrible (Gene Chizik I am looking at you, you too Jim Walden) and Northern Iowa was one of the top 16 teams in I-AA. On a side note, you will never see me reference FBS or FCS schools in these previews. It will always be I-A and I-AA.
The all-time record in this series is 18-4-3 in favor of Iowa State. Three of the losses have come since 1992 with Northern Iowa winning 27-10 in 1992, 28-14 in 1994, and 23-14 in 2007.
Last 5 Games
2007: Northern Iowa 24, Iowa State 13
2006: Iowa State 28, Northern Iowa 27
2004: Iowa State 23, Northern Iowa 0
2003: Iowa State 17, Northern Iowa 10
2001: Iowa State 45, Northern Iowa 0
An interesting stat that is meaningless in this game: Iowa State's shutout of Northern Iowa in 2001 was the first time the Cyclones had shut out the Panthers since a 0-0 tie in 1936.
Back it Up: Week 3 Review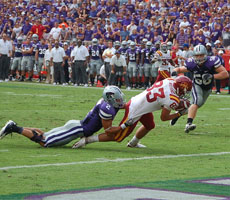 Despite a balanced performance from the offense, Iowa State lost to Kansas State 27-20 behind a 181 yards rushing and 3 touchdown performance by Daniel Thomas. Iowa State had a chance to tie it late with two drives in the final minutes but faltered both times. The first drive ended when Austen Arnaud was sacked and fumbled but the Iowa State defense bowed up and held Kansas State to a field goal. The final drive of the game ended on downs three plays after Arnaud missed a wide open Alexander Robinson that would have likely resulted in a touchdown and the chance for a game tying extra point.
Northern Iowa lost to Stephen F. Austin 22-20 after giving up 435 yards and committing three turnovers. The lone bright spot for Northern Iowa was the running game with quarterback Tirrell Rennie racking up 132 yards on the ground and running back Carlos Anderson adding 81 yards.
Iowa State Offense vs Northern Iowa Defense
The Iowa State offense has to do a better job sustaining drives and eliminating penalties. The penalties directly relate to the ability to sustain drives and Iowa State had four penalties inside of Kansas State's 30 yard line that had a significant impact on the offense's ability to find the end zone. The offensive rhythm began to develop against Kansas State with a balanced attack of 171 rushing yards and 122 passing yards. Those stats are not ideal for Big XII play but it showed Iowa State was able to move and control the ball (31:28 time of possession) before penalties undid three separate drives and an injury undid the fourth.
Northern Iowa has been stout against the run so far this season by holding North Dakota State to -40 rushing yards (only 5 yards was gained by their starting halfback) and holding Stephen F. Austin to 79 rushing yards. The Northern Iowa front seven are similar in size to the Iowa State front seven so it will be interesting to see how the Iowa State offensive line handles them in the trenches. It does not take a rocket scientist to know that Northern Iowa is going to play to stop the run and force Iowa State to pass. Arnaud's timing and decision making will need to be above average to move the ball consistently against this defense.
The potential X Factor in all of this may be the relatively young secondary that Northern Iowa has (three sophomores and one junior) and how they handle the Iowa State receivers. If the receivers cannot find space, or if Arnaud does not see them, this will be a long game and a much longer season. There is no reason for Iowa State to not be able to move the ball after Stephen F. Austin put up 356 yards of passing against the Panthers a week ago.
Most Intriguing Matchup: Austen Arnaud vs. Everyone
Advantage: Push
Reason: Arnaud has to prove to his coaches, his fans, and most importantly himself that he can be a successful quarterback the rest of the season. He took a large step last week by having no turnovers while not trying to do too much. Up until his injury he was having a relatively consistent game after the first series. If he cannot get it going against a Northern Iowa defense that should get pushed around on the pass rush then he may not get it going at all in 2010.
Iowa State Defense vs Northern Iowa Offense
Just like every preview this is the area of concern for this game. Northern Iowa has demonstrated their ability to run the ball successfully by putting up 262 yards on the ground against North Dakota State and 214 against Stephen F. Austin. Like Kansas State they boast a dangerous running back in Carlos Anderson and dual threat quarterback in Tirrell Rennie. Now calling Carson Coffman a true dual threat quarterback may be a bit of a stretch but with how he burned us on some of his option keepers last week you have to be concerned about how the Iowa State defense will hold up against two guys who are equally dangerous with their legs.
The thing that benefits the Iowa State defense the most is the jury is still out on whether or not Rennie is a good enough passer to be dangerous if he is held in the pocket. He is currently 18-36 on the season with a touchdown and an interception. A 50% completion percentage against two I-AA opponents does not provide a lot of confidence in his ability to perform at a higher level against a I-A opponent with an experienced secondary.
Iowa State's defense may not have inspired a lot of the Cyclone faithful last week with its performance against Kansas State (366 total yards allowed, 262 on the ground with 181 of that going to Daniel Thomas). However, one thing they did well was take better angles to the ball. With the defensive line being pushed around like they were high schoolers the linebackers performed admirably in getting to the ball carrier and getting off blocks when they could. However, Zac Sandvig and Michael O'Connell need to do a better job of tackling. The linebackers improved but now the secondary has to improve for when (not if) Northern Iowa reaches the second level in the run game.
This defense currently lacks a physical presence and that starts with leadership on the field. Jesse Smith played like an angry gorilla and it rubbed off on the defense. Currently no one has shown that type of dedication in the first three games. David Sims is missing in action, Leonard Johnson is as bewildered as ever, and A.J. Klein and Jake Knott will eventually be our defensive leaders but we are watching them go through growing pains.
The key to this game will be whether or not the guys in the trenches finally get healthy and show up to play. This includes Rashawn Parker who has not been the same since returning from ACL surgery. If the line can keep from being pushed around (which may be a tall order, only one Northern Iowa starter weights under 300 pounds… a slim 298…) then Northern Iowa's running game will not tear up the Cyclones in a way that Kansas State did.
Most Intriguing Matchup: Iowa State's defensive line vs Northern Iowa's offensive line
Advantage: Northern Iowa
Reason: Just looking at the size of Northern Iowa's line and the results that Iowa State's defensive line has had this year you have to worry. The biggest difference between last week and this week will be the quality of running back. Carlos Anderson is a good back, and a potential gamebreaker, but he weighs 172 pounds and will not be bowling people over like Daniel Thomas. As long as the linebackers take good angles and everyone finishes tackles this week then the run game will eventually be snuffed out.
Iowa State Special Teams vs Northern Iowa Special Teams
It's hard enough to evaluate special teams for each Iowa State opponent but it's even harder to evaluate them for a I-AA team that does not get the television exposure that Iowa State's Big XII brethren do. Due to this all I really have to say is the advantage is going to fall to Iowa State.
The Iowa State special teams seem to be back on track after a solid and more consistent performance by Kirby Van Der Kamp in his second start at punter and a 2-2 day for Grant Mahoney against the team that gave him a case of the yips.
The one sore spot was kick coverage against Kansas State where William Powell averaged 29 yards per kick return with a long of 45 yards and subsequently earned Big XII Special Teams Player of the Week. Powell is a quality BCS running back and would start for most teams if Daniel Thomas was not ahead of him. The kick coverage unit is still gelling due to the movement of some players to the starting defense and will take time to earn the trust that comes with playing together consistently. This unit will likely rebound going forward.
Most Intriguing Matchup: Iowa State's punt return vs Northern Iowa's punt coverage
Advantage: Iowa State
Reason: Historically Iowa State has loved to break punt returns for touchdowns against Northern Iowa and other I-AA opponents. Josh Lenz came close to taking one to the house in 2009 and has shown promise by shaking off the first few defenders on his punt returns. It would be great to see him break one for a score against Northern Iowa.
Final Analysis
A large part of me feels this game could be a repeat of the 2009 Baylor game where the offense finally found its rhythm and the defense terrorized the quarterback and played the physical style of ball that would lead us to a bowl victory. Of course that game resulted in a broken hand for Arnaud so let's not have an exact repeat of the game.
My point is this offense came out and did some good things last week before inopportune penalties and an injury to Arnaud removed the rhythm. Penalties can be fixed and hopefully Arnaud has healed up. The bigger question will be whether or not the team finally comes out hungry and determined to impose their will on Northern Iowa. They did this exact same thing against Northern Illinois so it can be done but what effect does the last two weeks have on their psyche.
If there is not a sense of brutality emanating from this team from the very first snap then the game will be closer than most people expect, or are comfortable with. The team has to start fast and keep their foot on the pedal to get some momentum going in to the next four brutal weeks.
Final Score
Iowa State 31
Northern Iowa 17