As some of you may remember from last summer, we ran a highly controversial and occasionally funny feature called "Know Your Enemy" which informed our readers about the various schools we were meeting on the gridiron this fall. This year, the tradition contiues. Up first, Baylor.


STADIUM:
The Bears play their home games at Floyd-Casey in God forsaken Waco, Texas. Seriously, this town is a complete shit hole. Apparently, most Baylor fans are aware of this as you'll never actually see them at the stadium. I've actually been to this fucking wasteland. The stadium isn't actually that bad, but good lord do Baylor fans suck. There were more ISU fans out tailgating than Baylor fans. Keep in mind that this is AT BAYLOR. 800+ miles from Ames. When crowds do occasionally creep over the 40,000 mark, they're generally made up of at least 40% visiting fans. But I've done enough verbal bad mouthing of the scene in Waco, so I'll just let the pics do the talking:

Lions, tigers and bear- wait. Those aren't Bear fans. Those are Sooner fans. My bad.


Baylor donor lots. 2 hrs before kick off. Where is everyone?



Baylor donor lots. 1.5 hrs before kick off.



Pretty much the highlight of Baylor tailgating. A few cars, a few ISU fans, not a Bear fan in sight.


MASCOT:
To their credit Baylor actually keeps live fucking Bears in a pit on campus. Undoubtedly, these monsters serve many functions from intimidating opposing athletes (generally not successful) or as potential human body disposals (a legitimate concern at Baylor... Sorry, we couldn't resist). The current bears are named Joy and Lady and will undoubtedly dismember you if given the opportunity.
On the sidelines, you fill find this inflatable douche bag prowling for hot guy ass, as he takes out all his pent-up Christian Conservative sexual frustration and starts raping everything in sight. As you can see here, he found Robert Griffin III to be satisfactory prey. There is little doubt that Bruzer (we can't actually find what his name is and quite frankly don't fucking care) is quite literally the gayest mascot in the Big 12.
TEAM
: last year Baylor went to their first bowl game since the Big 12 was formed. 15 years of futility were exorcised and Baylor fans actually showed up to watch a football game! However, the performance in that game looked pretty much like Baylor of old as Illinois basically did to the Bears what Bruzer did to RGIII in that above captioned picture. Griffin is a hell of an athlete, but it appears that teams have started to figure him out. Baylor's success this year will hinge on whether or not they can get some of their other talented offensive players involved on a regular basis. And if their defense is worth a damn after finishing the season allowing 55, 42, 53, and 38 points respectively.
TRADITIONS:
For a school that sucks even worse than ISU on the field, Baylor has a few notable traditions off the field. The first is the Sic 'Em Bears hand signal/cheer. Now, there must be some law on the books in Texas that requires all 4 Big 12 schools to come up with some unbelievably idiotic hand signal. Now don't get us wrong, they all suck. From Gig 'Em Aggies (what the fuck does that even mean?) to Guns Up and Hook 'Em Horns these some like little more than attempts by famously insecure Texans to show how fucking awesome they are. However, none of these come anywhere close to the idiocy of "Sic 'Em Bears".
[youtube]Bl8Z3kIMazM[/youtube]
Between curling their hands and than swiping at the air as they growl, Baylor fans actually manage to make Aggies look rational (previously thought to be impossible) and have found a way to make Chuck Norris look like a douche (also previously thought to be impossible).
Baylor's other traditions, which include not tailgating and not going to football games, also include the time honored tradition of having ugly chicks steal beer for you when they do on occasion tailgate (photoshopping likely done by ShaggyBevo).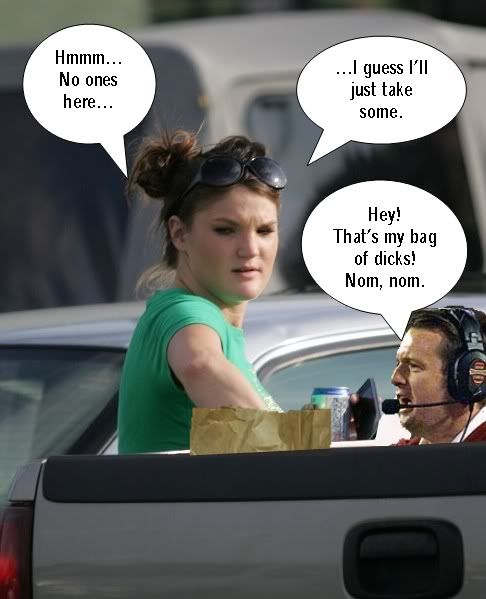 We think she's probably into butt stuff. With that face, she needs to be.
AGAINST ISU:
Baylor is 2-5 against ISU in Big 12 play. However, one of those losses was the infamous 2005 game where the Bears won their first Big 12 road game (it only took 9 years) on the back of Shawn Bell, who is basically the Big 12 football equivalent of Brian Cardinal. In the most recent meeting, in 2009 at Jack Trice Stadium, the Clones dominated the Bears in a 24-10 game that was nowhere near as close in reality as it looked on paper.
In summation, there are few Big 12 schools I hate as much as Baylor. Their fans are far and away the biggest douche bags in the conference and their isn't a single redeeming quality about Waco and the scene at Floyd-Casey. Baylor can die of gonorrhea and rot in hell.
Wouldn't that be ironic?