Ah, the tailgate — a preparation of the mind, body and soul for receiving the gift of football. Prior to every game this fall, WRNL will bring you a "Tailgate Preview." We promise to focus very little on the opponent or football in general and instead turn our efforts to how to get the most out of your tailgating experience. After all, it's common knowledge that Iowa State is more known for tailgating as opposed to its football prowess.
Any Cyclone fan worth their well-worn Seneca Wallace jersey knows that game day is incomplete without the feasting, drinking and camaraderie of the tailgate event. In this recurring article we'll highlight the weather, a drink, a dish and something to keep you busy between sips. So sit back, pop a top or crack a bottle, and let your preparations for the weekend's tailgate begin.
Weather: Cool and Sunny
Though the middle part of this week brought some interesting weather, the forecast for the weekend looks downright lovely. It's as if the weekend is welcoming us with open arms and leading us out of a rain/thundersnow/tornado filled week, and beckoning us to join in the Saturday tradition that is college football. A tradition most Cyclone fans honor with early mornings, gathering with friends and family, and consuming copious amounts of alcohol. All of the alcohols, actually.
Regardless of when you start your football weekend, the weather should be perfect for football, which is a rarity for a game in November. You can expect a clear, sunny day with an afternoon high of 60 degrees, which should arrive precisely as Iowa State's 2:30 showdown with undefeated Oklahoma State begins.
Drink: Rum and Coke
Doesn't that drink look refreshing?
Now, while it may seem a little strange to be suggesting a cold drink such as this one for a football game in November, hear me out. Rum is one of my absolute favorites, so I plan to not only break down the rum and cola (please don't get off-brand cola) scene, but tie it all back to Cyclone football and the task at hand. Let's begin, shall we?
Let's begin with the cola, which is an integral part of making this dangerously delicious drink. There many different avenues you can travel down, but few will take you where you want to go. Which, when hosting an undefeated team, is probably getting obliterated.
Coke is obviously the go-to, as something about drinking Coca-Cola with your rum just feels right. That same frame of mind makes drinking rum with Pepsi feel downright wrong. Whiskey, yes, but rum? Playoffs? Are you kidding me?
Worse yet would be going with off-brand cola. Here's a few you should definitely avoid (trust me, I've tried them): Nice! Refreshing Cola, RC (not too bad with whiskey, actually), Shasta Cola, and quite possibly the worst soft drink of all time: Walmart's Cola. Yep, just Cola.
Next, let's get to the alcohol. Though rum doesn't offer as many choices as a liquor like whiskey, its four different styles mean you should be able to find one that you like: white, golden, dark, and spiced. Rum tends to be offer a mixed bag of tastes and flavors. Since it's made from fermented sugar cane, but doesn't have a strict classification like whiskey, the aging process and spice levels are incredibly different from brand to brand.
Dark rum, sometimes known as black rum, is the most unique. Dark is aged longer, usually has a caramel/vanilla flavor, a smokey finish, and is typically considered a strong, "heavy" type of rum.
White rum, my personal favorite, isn't aged much at all, leading to a pretty simple taste and finish, and is perfect for any cocktail. Golden rum means rum has been aged in amber oak barrels, and has a more fruity flavor to it. This is your fruity cocktail rum.
Finally, we've reached everyone's old friend (or old enemy), spiced rum. The mainstay of the rum business, the combinations of different flavors spiced rum offers are second to none. This also means the level of spice in the rum can be markedly different. There's also a type of spiced rum with so much spice that I call it "pirate rum," and that stuff isn't for the faint of heart. That's the rum you start drinking at sun-up, like a true pirate.
And then you check in somewhere to get some help with your drinking problem.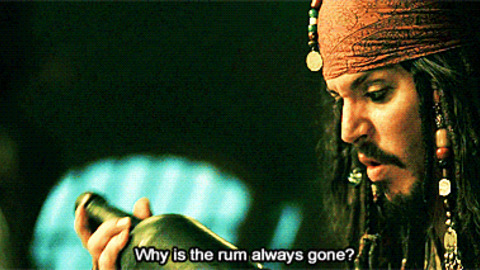 Finally, here's a few rum recommendations from each type to keep in mind as you drink the weekend away: Captain Morgan White (offers both spiced and un-spiced), Bacardi Gold (a classic rum), Kracken (dark rum), and Shellback Rum (Dan Patrick's favorite spiced rum). Finally, if you really want that true pirate feeling, I offer up Sailor Jerry as your drink of choice. In college, we used to pass a handle around the circle, which of course was called "going sailing." If you really want to sail your way up to game time, there's no better drink to get you there than a rum and coke.
Now, for that Cyclone Football tie-in... What do pirates like to do? What is it that fills their days out on the open sea? Well, they like to drink rum, swashbuckle, make young lasses and lads walk the plank, drink more rum, sing shanties (pirate songs, not the 90% of the houses in Iowa City), and finally loot and plunder. Ohhhh how they love their plunder.
Four years ago, the Cyclones not only managed to plunder Oklahoma State's perfect season, they also managed to loot the flawed BCS system, leading to a new era in college football. So, what better way to honor that legacy than to drink like a pirate and hope the Cyclones have another afternoon filled with pillaging.
If you'd like a real drink recommendation, check out our Oklahoma State game preview, where KnowDan gets to do what he does best: be a beer snob (love you, KnowDan).
Food: WHATEVER YOU ATE FOUR YEARS AGO
Much like drinking rum honors the Cyclone's upset victory four years ago, your choice of food should do the same. I highly recommend you eat the exact same foods you did on that fateful Thursday night four years ago. Trust me, against this Oklahoma State team, we're going to need all the help/luck we can get.
Also, I'd like to take a moment to apologize for leaving Tip Top chili out of the last Tailgate Preview... On gameday, there is no chili more sacred than early morning chili at the Tip Top.
Activity: Beersbee
What's not to love about a game where the main rule is that to play, you must be holding a drink?
Beersbee, or Polish Horseshoes, is a tailgating classic. To play you need a frisbee, drinks (of course), two metal/PVC poles, and two empty beer bottles. Drive the poles into the ground about 10 yards apart; it's best to play this in grass or dirt lots where pole placement is easiest. If you're in a lot with pavement, well. Get creative, ok? I suggest a rock hammer and some quick-dry cement.
Once the poles are set, balance a beer bottle atop each one, split into teams and take turns attempting to knock the bottle off the opponent's pole. You score points if either an opponent fails to catch the frisbee, fails to catch a falling bottle, or fails to do anything right and misses both. The bottle is worth two points, the frisbee worth one, and missing both of them adds up to 3 points.
If you would like more information on the game, here's a guide to help you play. It's a drinking game, so as long as you end up drinking, does it really matter if you play it correctly anyway? Remember, it's not whether you win or lose, but how you play the game. And remember, that you play to win the game. And that win or lose, we still booze. Yep.
We obviously aren't fans of Cyclone football for a winning tradition. The reason we all make the trek to Ames season after season is for the friends, family and fun that comes with football each fall. The best way to celebrate this gathering of friends, family and complete strangers (who just happen to be fellow Cyclone fans) is to tailgate.
Let the party begin!
PSA: WRNL has a tailgate in lot G7, and you're welcome to stop by! We'll have a breathalyzer, plenty of booze and of course your favorite writers from this fine website!