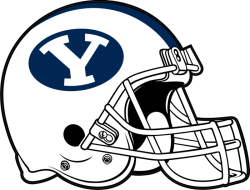 Because it is the 5 year anniversary since our good friends in Lincoln decided to flip the Big X XI Big XII upside down and start the realignment panic of 2011-2012, we will be looking at potential candidates to return our conference to its rightful throne of numerical accuracy. After 2014's decision to award Co-Championships to Baylor and TCU (Yay! Everyone gets a trophy!), neither team was invited to the National Championship Playoff, and it has been debated whether or not the Big XII needs to expand. The NCAA has previously mandated that each conference must maintain at least 12 teams, arranged in two divisions, to be eligible to have a championship game. While Oklahoma may have been invited to the playoff this year, this writer and several other believe that expansion is the best possible way to strengthen the Big XII and level the playing field with the Big Ten and SEC.
In this week's report, we'll be putting on our white dress shirts & black ties to politely knock on your door and share with you the story of Brigham Young University… (Sorry Vanquish The Foe)
At a Glance
Location: Provo, UT. Enrollment: 29,672, Affiliation: Private (LDS), Conference: Independent
Football: Lavell Edwards Stadium (63,470), Coach: Kalani Sitake (0-0), All-Time Record 484-369-26 (1984 National Champs), Bowl Record: 13-20-1,
Basketball: Marriot Center (20,900), Coach: Dave Rose (264-90), All-Time Record 1738-1048 (12th All-Time), 27 NCAA Tournament Appearances
The Good
The most widely-discussed and contentious candidate for joining the Big XII happens to be our Mormon friends of BYU. The Cougars have a historically-strong program unmatched by any other non-Power Five school (Except for the Service Academies, 'Merica). For much of its history, BYU has been regarded as a respectable football program located on an island between many of the major conferences. In Basketball, BYU is widely considered one of the top mid-major programs in the country, with a historical record and fan support that speak volumes to what they could offer the Big XII. On top of this, Brigham Young maintains a well-rounded program with sports such as Wrestling Track & Field being capable of increasing the overall prestige of the conference. Finally, BYU is a well-respected academic institution, and the conference could always benefit from some improved academic schools to even things out (Looking at you, West Virginia).
As many will point out, football is the cash-cow in college sports, and seems to be the primary motivator behind schools changing conference affiliation. Since the arrival of legendary coach Lavell Edwards in the early '70s, installing a pass-heavy offense at that would serve as a forerunner for the modern spread offenses that are prevalent in today's game. Under Edwards, the Cougars would dominate the old WAC and Mountain West Conferences (Still tougher than the Big Ten West), winning conference titles almost annually. This period even witnessed BYU claim the 1984 national title, 1990 Heisman Trophy with Ty Detmer, and produce several other star players in Steve Young, Jim McMahon, and Steve "Whiskey Neat" Sarkisian.
The 2000s haven't been as successful of an era for the Cougars, but they've maintained a reputation as a nationally-competitive program. Following coach Bronco Mendenhall's decision to leave for Virginia, BYU is now headed by one of their own alums, former fullback Kalani Sitake. Provo is located near the Salt Lake City metropolitan area, currently ranked in the top 50 largest in the U.S. and considered to be one of the fastest growing as well. While Utah isn't a recruiting hotbed, with a national following due to the school's affiliation with the Church of Jesus Christ of Latter-day Saints, BYU currently maintains their own television network and the ability to recruit nationwide talent, specifically from the talent-rich West Coast and Pacific Islands. Many believe this will allow Brigham Young to immediately compete at the Big XII level (Still waiting on you, Kansas), and allow the rest of the schools in the conference to branch out into new markets and demographics.
The Bad
Despite the fact that BYU seems like a slam dunk choice to expand, there are a handful of key issues have prevented this from happening. Some of these can be easily fixed, while others will require a fair amount of compromise:
Yeah...just take a minute to let that sink in. Utah is located far outside of the current Big XII footprint. While many have advocated for acquiring schools in new media markets, Utah and the Salt Lake City metro are almost a thousand miles from the nearest conference school. While this may not mean as much to football and basketball, teams competing in Olympic-sports often do not have the luxury of chartered planes, and taking 2000 mile bus rides from Morgantown to Provo sounds about as appealing as riding a mechanical bull with hemorrhoids. As such, many believe the conference would be better off moving East, not West.
As a private university, BYU doesn't quite fit the mold of most schools in the conference (Sorry Baylor) that are typically large research institutions. Brigham Young's affiliation with the Church of Latter-day Saints also means that no Cougar-team will compete on Sunday. Ever. Even if there's a fire. Because of this, there will be major scheduling changes should they join the conference. Sports such as wrestling, basketball and softball often compete on Sundays out of necessity. Should BYU join, they will likely hold firm to their scheduling requirement, and athletic directors will be pressed to sort out the logistics of a six day calendar.
As an independent, BYU established their own television network in a partnership with ESPN. This network has allowed them to gain an independent source of revenue and exposure similar to the University of Texas and the Longhorn Network. While the current Big XII arrangement would allow this to take place, many are pointing to the likelihood of folding the Longhorn Network and any other individual channels into one Big XII media network. Finally, I haven't experienced it in person, but I've heard BYU's tailgating culture leaves a lot ot be desired. (High on Kool-Aid, Jell-O, Vanilla Wafers & Low on Busch, Bud and Coors)
But who knows, maybe moments like this show that those Mormons are finally starting to loosen up: 2014 Memphis vs. BYU Brawl
On paper, Brigham Young offers almost everything that the Big XII desires in a member. Having such a historically-strong football and basketball programs combined with respected academics, Olympics-Sports and a nationwide appeal make them an a great candidate. However, with issues in geography and scheduling, it remains to be seen if this strong candidate will receive an invitation in the near future. If the Big XII does add one or two more teams in the near future, I would personally expect BYU to be in if not near the very top of the pack.
Final Grade: A-