Folks, it's time to talk Conference Expansion once again. If you'd like some extra information, feel free to check out previous articles on expansion candidates Brigham Young, New Mexico and Cincinnati.
This week, we'll be talking about a southern team that many, including several Big 12 coaches, view as a contender for expansion: The University of Houston. While I am aware that a fifth member from Texas might not be everyone's ideal choice, let's take a look at everything the Houston Cougars bring to the table.
*Update: There is a Burnt Orange Suburban with tinted windows repeatedly driving past my apartment.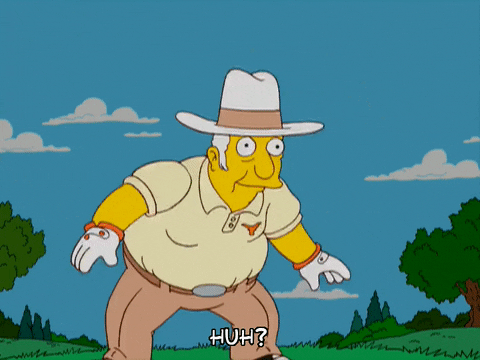 Location:
Houston is located in the Southeast corner of Texas, the 2nd largest state by landmass and population. The city of Houston maintains a population of 2,239,558, the 4th most in the nation, and well over 6 million total in the Houston metro.
The University of Houston is naturally located for travel among Big 12 schools (sorry West Virginia) and maintains several longstanding rivalries dating back to the days of the old Southwest Conference.
One recent event that may hold Houston's fate in the balance is UT's recent purchase of land in the Houston metro. Many claim that this may be a bargaining chip, as Houston's inclusion in the Big 12 would allow UT to set up a satellite campus in Houston, which would be a win-win for the two schools.
However, when considering adding Houston you have to consider the question: How much Texas is too much?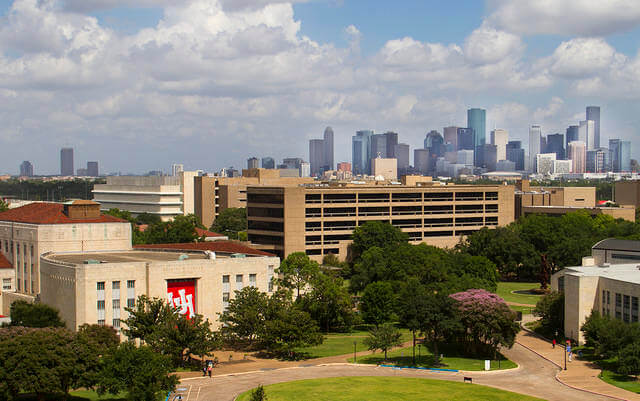 Academics:
The University of Houston maintains a student population of 42,704 students and an acceptance rate of 63% as of 2014-2015. According to U.S. New & World Report, Houston is the number 187 in its national rankings, and 105th among public institutions. Houston offers 280 degrees through 12 different colleges, including space exploration, biomedical research, and law.
Long story short, Houston is a large, research institution that fits the mold of a Big 12 member. Now, I've always been a sucker for Land-Grant schools with an ag program, but hey, if you're a fan of ANAL, they might be up your alley...
Football:
Like many of you, my first thought when I hear Houston Cougar football is Case Keenum throwing enough passes to blot out the sun. (But seriously, dude somehow got 6 seasons of eligibility while throwing 40+ times a game.) Ironically, it was at Houston that the run-based veer offense was first created by Bill Yeoman in the mid-1960s.
Playing football since 1946, Houston hopped around between multiple conferences and independence. In 1976, they were finally granted membership in the Southwest Conference, playing current Big 12 schools like UT, Baylor, Texas Tech and Texas A&M TCU. They would win the league title that first year, and four more, before the conference exploded in 1996 to form the Big 12. This stretch would include Andre Ware winning the Heisman Trophy in 1989, while also putting up 95 points on a post-Death Penalty SMU.
Many might not know it, but Houston was actually in contention for the final spot in the conference that eventually went to Baylor. Then Texas Governor Ann Richards, a Baylor alum, put political pressure on the other state schools that eventually led to Baylor's invitation. Since being left on the island of misfit toys, Houston has hopped around conferences including C-USA and the Big East AAC.
Art Briles, a UH alum, would lead the Cougars to renewed success before leaving for Baylor (We all know how that worked out) and was replaced by Kevin Sumlin. Sumlin would continue the trend of high-powered passing attacks at Houston, leading the team to a 13-1 season in 2011 before leaving UH, this time to coach at Texas A&M.
After promoting special teams coordinator Tony Levine and going through three forgettable seasons, Houston would once again strike it rich by hiring former Ohio State and Iowa State offensive coordinator Tom Herman. (For those of you who don't know, he helped engineer this.)
Herman has taken Houston to new levels, as they are now considered one of the elite mid-majors in college football. His aggressive recruiting campaign this last year netted several major prospects from the Houston metro, in what the media was dubbed "H-Town Takeover."
The 2015 Houston Cougars would go 13-1, earning the AAC Championship and defeating Florida State in the Peach Bowl. Houston football is historically strong, and with 2016 looking to be another banner year, quarterback Greg Ward Jr. is on several Heisman trophy and other award watch lists, and many think that this is the perfect time for the Big 12 to finally open the doors.
Basketball:
On the hardwood, Houston boasts a historically competitive team that still maintains plenty of room for growth. Since the beginning of the program in 1946 (It's a young school, OK), the Cougars maintain an all-time record of 1142-792. The program also boasts four conference championships,19 NCAA tournament appearances and five appearances in the Final Four.
Houston truly arrived on the national scene in the 1960s upon the hiring of coach Guy Lewis in the 1960s. Houston took part in the "Game of the Century" in 1968 against #1 ranked UCLA. In front of a crowd of 50,000 at the Alamodome, Houston would upset John Wooden's Bruins 71-69. As the first televised regular season game in history, Houston snapped UCLA's 47-game win streak and proved to the nation that college basketball and television could work financially.
The program's peak was during the early 80s, which featured the teams affectionatly known as "Phi Slama Jama." Known as Texas's Tallest Fraternity, these teams would be led by NBA Hall of Famers Hakeem Olajuwon and Clyde Drexler. From 1982-1984, these teams used their above the rim style of play to advance to two championship games and would help evolve the game into what we know it as today.
Following the 1980s peak, Houston basketball has been largely irrelevant. With only a single tournament appearance since 1996, it can be argued that the loss of the Southwest Conference has had a major impact on the teams exposure and level of success.
After bringing in former Oklahoma and Indiana coach Kelvin Sampson, many think Houston has some potential and believe that joining a top-flight league such as the Big 12 would reinvigorate the program. At the same time, does the Big 12 need another mediocre team from the state of Texas?
Facilities: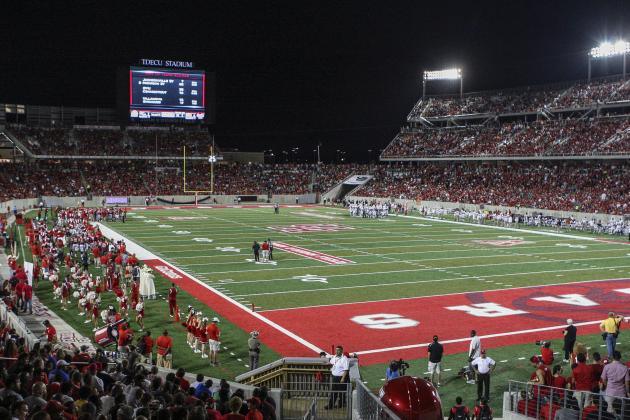 In 2014, Houston unvailed a brand-new stadium to replace 70 year old Robertson Stadium. Costing $128 million to construct, TDECU Stadium is a 40,000 seat on-campus stadium and is 3 miles from downtown Houston.
The state of the art stadium features award-winning architectural design with one key feature: If Houston would potentially be granted membership into a Power 5 conference, the stadium includes the design potential to eventually feature 60,000 seats. Clearly, UH is hoping to play with the big boys in the near future.
The University of Houston men's basketball team has played in Hofheinz Pavilion since 1969. With a 10,000 seat capacity, the stadium is known to draw loud, intimidating crowds to big games. Recently renovated in 2004, Houston recently announced the plans for a $60 million complete redisign of the facility.
Opening in 2018, the arena will feature additional seating, as well as the inclusion of two practice floors as well. Once again, Houston's investments signify a clear effort towards joining a Power 5 conference such as the Big 12.
Recruiting:
It's Texas, people play football there. Lots of 'em.
Fan Support:
The University of Houston currently claims over 260,000 alumni, which is impressive for how young the school is and sure to increase exponentially over the next few decades. However, this is also where things start getting dicey for the Cougs. As a major metro featuring three major sports teams, as well as several nearby college programs, Houston has plenty of competition for exposure.
Since the heydays of the 1980s, Houston has struggled with attendance at many of its athletics. Between moving football games to the Astrodome, back to Robertson Stadium, across town to Reliant Stadium, and now finally at TDECU, Houston football just hasn't been able to draw consistent crowds.
To this point, you have to wonder if moving to a Power 5 conference and playing teams such as Texas and Oklahoma would be enough to move the needle. Things became so apparent during last years 13-1 campaign that Tom Herman actually called in to local radio stations and openly aired his frustrations on how a nationally ranked team could draw such low numbers at home.
If Houston wants a seat at the table, Cougar Nation better rise up before its too late. Oh, and they don't even have their own SB Nation site.
Bonus: The Cougar Paw
One of my old football coaches is actually a UH alum, and he would be ashamed if I didn't throw this little anecdote in at the end. From Wikipedia:
"The University of Houston and the University of Texas played their first football game against one another in 1953. Since this was their first meeting, members of Alpha Phi Omega—the service fraternity in charge of taking care of Shasta I, the university's mascot—brought her to the game.

During the trip, Shasta's front paw was caught in the cage door and one toe was cut off. At the game, several Longhorn players saw what had happened and began taunting UH players by holding up their hands with the ring finger bent, suggesting the Cougars were invalids. Texas went on to win this game 28–7. UH students had been using the victory sign as a hand signal up to that time, but began using the bent-finger sign as a reminder that they would remember the taunts.

The Cougars didn't play the Longhorns again until 1968. With UH fans holding up the new sign of Cougar pride, UH played UT to a 20–20 tie. They didn't meet again until 1976, the first year UH was a member of the Southwest Conference.

In front of a record crowd at Texas' Memorial Stadium, UH defeated UT 30–0, a rout that signaled the beginning of the end for legendary Texas coach Darrell Royal. This solidified the use of the Cougar Paw as a tradition."
There ya have it, and while it seems like every Texas school has to have some stupid hand sign, I'm glad this one has a cool story behind it (With UT losing).
Bottom Line:
Among all of the candidates for expansion, few bring as much to the table as Houston. Whether it's academics, location, marketing, history, or potential, UH has all of the candidates that one would think would warrant it membership in the Big 12. However, questions about Houston's fan support, as well as whether the Big 12 wants to spread Texas even thinner with another mouth to feed, remain some of the biggest holdups to them gaining an invitation.
UT and their minions are probably going to try to fight this tooth & nail, but at the end of the day, Houston just makes damn sense.
Final Grade: A